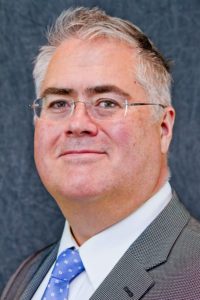 Michael A. Blake is a patent, trademark, and copyright attorney.  Michael is  registered to practice before the U.S. Patent and Trademark Office, Connecticut bar, and the State Bar of California (inactive). Michael graduated from Texas A&M University with a Bachelor of Science in Mechanical Engineering in 1989. He received his law degree from the University of Texas in 1996. Prior to attending law school, Michael was employed as a mechanical engineer at Bently Nevada Corporation, now a Baker Hughes business. At Bently Nevada he diagnosed machinery malfunctions and performed optical alignment on various industrial machines, such as turbines, pumps, compressors and reciprocating engines.
Michael is experienced in obtaining patent protection for a variety of technical areas, including, consumer products, semiconductors, automobile systems, turbine and pump systems, drilling systems, and computer systems. A patent covering septic systems that was prepared and prosecuted to issuance by Michael was successfully asserted in litigation against an infringer in the U.S. District Court for the District of Connecticut. The same patent was successfully reexamined at the USPTO, with all of the original claims being confirmed as patentable.
Before opening his own firm, Michael was an attorney at the patent law firm Cantor Colburn in Connecticut. Prior to that he was an attorney with Sierra Patent Group in Nevada.
In addition to his law firm practice, Michael provides pro bono patent and trademark legal services through the Volunteer Lawyers for the Arts organization in New York.   Michael is also mentor with the National Association of Patent Practitioners (NAPP) where he helps young patent attorneys and patent agents learn about how to be better patent practitioners.   Michael was a Professor of Law at the University of Connecticut ("UCONN") School of Law in Hartford, teaching law students the daily practice of patent and trademark law at the Intellectual Property and Entrepreneurship Clinic. He was also an instructor at Fairfield University, where he taught the graduate level engineering course "Management of Intellectual Property Assets."   Michael is a past vice-president and current Speaker Chair of the Inventors Association of Connecticut (IACT). Additionally, Michael is a member of the Connecticut Bar Association (CBA), State Bar of California (inactive), the American Intellectual Property Law Association (AIPLA), NAPP, Milford Bar Association, past member of the United Inventors Association (UIA), and the Innovator's Resource Network (IRN).  In addition, he is also a member of the Business Law Section and the Intellectual Property Law Section of the CBA.  Michael stays on top of the latest legal issues in patent, trademark, and copyright law by attending yearly continuing legal education (CLE), and by teaching CLEs related to intellectual property to attorneys.  Michael was a mentor with SCORE New Haven, where he volunteered and helped small businesses with patents, trademarks, and copyrights.  He is also a former board member of the Yankee Invention Expo (www.yankeeinventionexpo.org).